Dominik the Daring was a fun shoot because I really got to push the limits of how much contrast and darkness I could pull off in a shot. This shot is a daytime scene, but it still comes off as very stark. It's the moment that the family comes to grips with the fact that their dog, Bronco, is sick. We wanted to convey that something was wrong. Of course it gives us something of Bronco's perspective as they all look down on him, but it also helps in emphasizing that something is off, the angle feels unusual as is Bronco's condition.
One of the great lessons from working on such a visual film was that there is a lot to be said by the things and not just the people. The shot of the syringe seemed like a simple insert, but it became much more in what it symbolized: The dad contemplating whether or not to put down his dog. Framing this shot with his face in the background helped us to convey that meaning. After rolling on this for a while, the actor had a chance to improvise and we captured some magic on screen.
One of our big influences was from "Batman: The Animated Series." I really loved how they used shafts of light pouring in through windows or doorways and tried to use some lessons learned from those images. Given how I have to photograph real people and not cartoons, I softened up the light a bit, but still allowed the light to come in almost expressionistically across the frame in both the foreground and the background with strong shafts defined by the doorways that cut into the beam.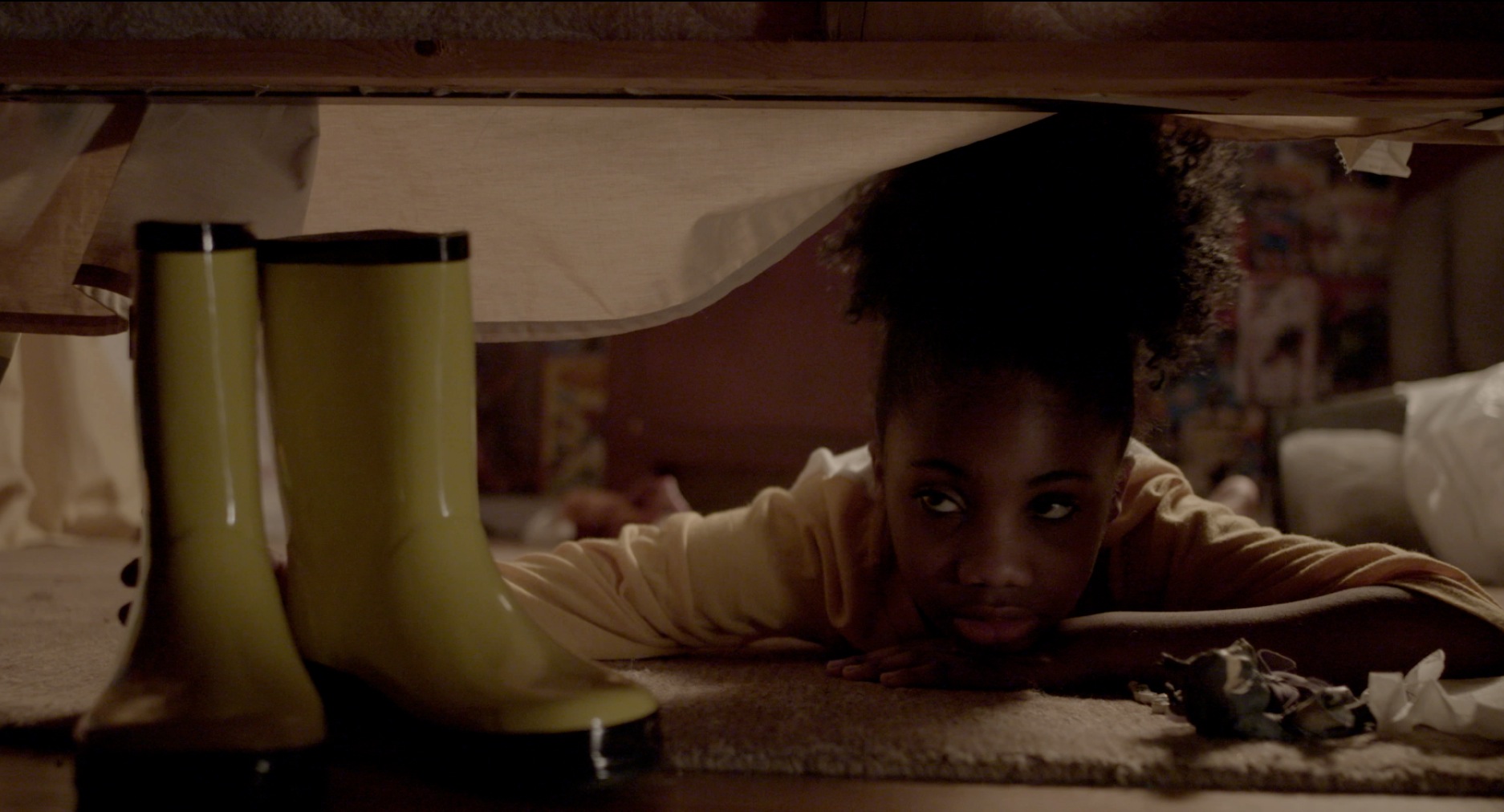 This is one of my favorite shots partly because it's so simple. Dominik, our main character, wants something, she can see it, and she's going to take it. The simple action of having her lying on the floor to get at her boots starts to say something about her earnestness and resilience that we'll see later in the film. We started the film with her room being completely warmly lit at night, giving it a sense of family and welcomeness. Later on, we change that dynamic by slowly bringing in more and more cool tones.
On her way out the door Dominik runs past this guy. I guess I just like this shot. I don't know what to say.
The director of this film has somewhat of an infatuation with New York City's Financial District. Both films I've shot for him feature its architecture pretty prominently. For this shot toward the end of Dominik's journey, I composed it with the city lights coming at the camera to enhance the bokeh and provide a backdrop to frame the actors against. This shot is one of a few that we photographed at 12 frames per second with a standard 180 degree shutter to get a blurred, stuttered motion effect similar to a Wong Kar-Wai Film. We felt that it gave certain scenes a heightened sense of tension and fit within the world we were building for Dominik to take on her superpowers.
I don't think I've ever photographed anything this dark before, especially not the emotional climax of a film, but I felt it was necessary because this does have to pay off everything I had been building up to with the lighting. There were many contrasty scenes earlier, but this had to top all of those. Also, as I said previously, my goal was to slowly drain the warmth out of Dominik's room throughout the film (I skipped over the screenshots of all the intermediate steps, woops!) until we get to the point when it becomes hard for her to really take any solace in the comfort of home. That's when we see her room completely cold and bathed in darkness.
We ended the film with this fun after credits sequence, which works as just one last hurrah for the amazing set decoration and costume design on this film. We also pulled out our horizontal streak filter, which we often used to invoke the supernatural motifs of the film. Also I got a chance to go full Batman and hit the actors with hard light for the very end.
Dominik the Daring and Bronco the Brave