"Unwritten" revolved around the idea of loss and how this young woman, Charlotte, coped with it. This is a frame from an early scene in the film of her moving into a new apartment and from the very beginning we wanted to show the loneliness that came along with having to say good-bye to someone who was important in her life. That's why you see the brightly lit, yet sparse room with all white walls. There's a sense of emptiness that carries throughout a large portion of the film. It's also why we opted for a 2.35:1 aspect ratio (widescreen) to emphasize all the space around her.
This is one of a couple interior night scenes in the film. I made it a rule not to bias my night lighting toward any color (like cool moonlight or amber lamp lights), but to keep it white, more contrasty and darker than the daytime scenes, but not excessively. I didn't want it to feel necessarily like her problems were coming from her environment, but rather from within her. In a slightly more literal sense, it doesn't feel like she can take any solace in the night. There's no hiding in the darkness or running from the light to wallow away in the late hours. If she's going to face her fears, the night time is as good as any, and there's ample light to do it in.
Any chance I get to make use of natural light, I'll gladly take it. This shot is illuminated with just a well placed bounce board and an even better placed window.
Once again, natural light is something I always try to make use of when applicable. For the scenes in this room, I shot everything toward the window using just the window light, then covered the window and relit once I had to turn around. As long as the contrast is consistent, it all flows seamlessly.
Overhead shots became a bit of a visual motif throughout this film. Most of them were focused on key props, but it was all brought together by this shot of our protagonist and one of the letters she revisits to keep old memories alive.
We originally intended on having three shots for this scene to help get across the point that Charlotte wasn't being very receptive in her interactions with her friends. Due to time constraints (I blame it on the art department) we ended up having to consolidate it down to one. I decided to frame it with Charlotte pushed a little farther off to the side of the frame and with the handle of the bench placed firmly between her and the friend. I liked the idea of it being almost claustrophobic for her to have a real human interaction, as if something is missing without the emptiness that she's used to. Sometimes it's in the details.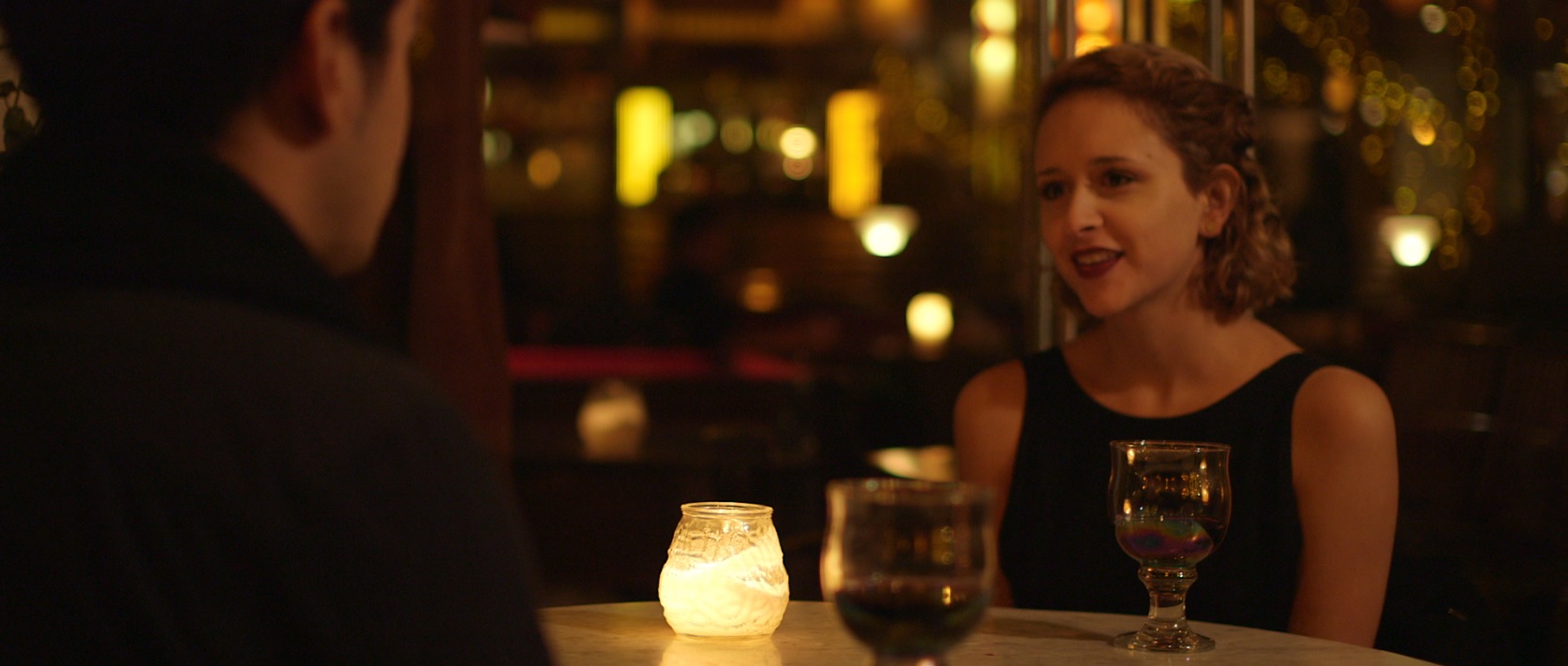 I chose to stage this restaurant scene in front of the window to get all those amazing point sources of light in the background. It also serves to contrast heavily with the very minimalist opening scenes by having so much going on in the background. In that regard, it helps to reflect the evolution of Charlotte's character throughout the film.
Unwritten